Index eBooks™ and Apps can be used immediately. Index will work with clients to customize material as needed, including written instruction, standards, branding, photos and videos featuring the client's own workers and equipment. On a typical project, all new trainees will begin using the new material after three months of customization and implementation.
Client time commitment is spread across dozens of SMEs, instructors, apprentices, supervisors and management which creates tremendous buy-in and esprit-de-corps. We pour their expertise and passion into the eBooks and Apps.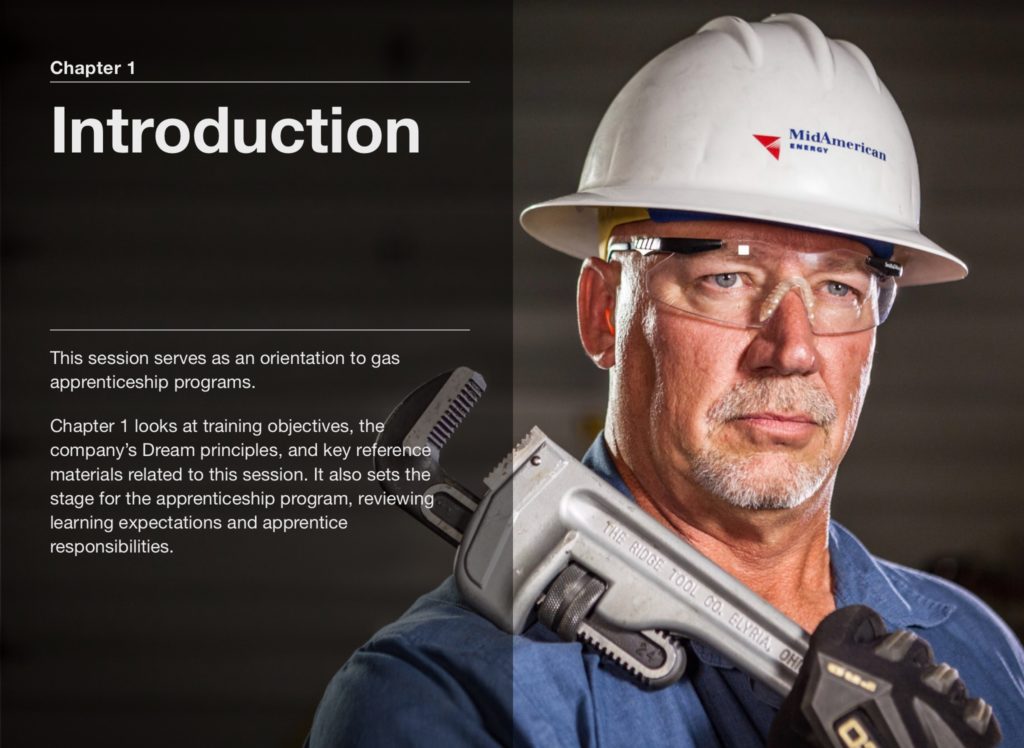 ---
The 38 Index eBook™ Titles:
Orientation
Basics of Natural Gas
Jobsite Safety
Tools
Trucks
Trailer & Equipment Operations
Locating Basics
Residential Meters & Pipefitting
Plastic Installation, Maintenance & Fusion
Steel Installation, Maintenance & Fusion
Working with Live Gas
Introduction to Outside Leaks
Tapping & Stopping
Cathodic Protection
Essential & Non-Essential Valves
Area-Specific Equipment
Orientation & Customer Service
Technology & Paperwork
Regulators & Regulator Stations
Odorization & Odorameters
Pipefitting & Commercial Meter Sets
AOCs, CFOs & MOs
Basic Electric
Gas & Electric Turn On/Off
Introduction to Appliances
Residential Gas Appliances
Outdoor Appliances
Commercial & Industrial Appliances
Inside Leak Investigation
CO Investigation
Outside Leak Investigation
First Response & Emergency Response
Gas Apprenticeship Mobile Applications
Gas Operating Standards
Consolidated Safety Rules
Gas Emergency Response Plan
Pipe Joining Standards
Using the eBooks
---
The 21 Mobile App Titles:
Gas Utility Overview
City Block Visualization
Meter Set Basics
Meter Sets Step-by-Step
Gas Pipe Fitting
Meter Trainer
Gas Valve Changer
Hazard Identification
Regulator Stations
Gas Meter Set Parts
Gas Meter Fundamentals
Regulator Overview
Furnaces – Hot Surface Ignition
Furnaces – Direct Spark Ignition
Furnaces – Intermittent Pilot Ignition
Furnaces – Standing Pilot
CO Investigation
Furnace Efficiency Types
Introduction to Water Heaters
Introduction to Boilers
Gas Migration Paths
---
Contact Index AR Solutions today to learn more or to arrange a hands-on demonstration of the Gas Technician Apprenticeship SuperApp™.