Augmented reality (AR) is a powerfully immersive technology that overlays digital content and information onto the physical world.
AR-based custom mobile applications from Index provide workers with the important information required to perform a task safely and correctly every time.
Index custom apps present the right data at the right time in a highly visual and interactive fashion, avoiding information overload and enabling workers to do their jobs faster and with fewer mistakes and less risk.
It is not uncommon for a worker using an Index app to increase productivity by 2X to 4X.  It is also not uncommon for Index apps to help workers eliminate quality escapes. And many clients have measured or estimated the ROI from using an Index app with the lowest measured ROI coming in at 100% and the highest an app that paid for itself in 34 days.
---
Featured Use Case: Index Mobile App Brings Microgrid to Life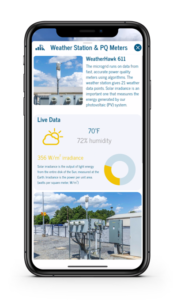 Duke Energy turned to Index for help creating MicroTour, a mobile app that allows employees and visitors to learn more about Duke's Mount Holly microgrid in real time regardless of user location.
The MicroTour app uses AR, videos and photos to create an immersive tour of the microgrid yard. Individuals on location can use the app and smartphone camera to scan the microgrid yard and view an overview of each piece of equipment, including specifications and streaming of real-time status.
MicroTour is available now in the Apple App Store for iPhones and Google Play Store for Android devices. Read more about the MicroTour mobile app in the T&D World feature article "Duke Energy Now Offers Mobile Virtual Tour of Microgrid Innovation Lab."
---