Index AR Solutions Exhibits at Dominion Energy Innovation Expo
October 8, 2018
Index AR Solutions was among a select group of external exhibitors at Dominion Energy's inaugural Innovation Expo, an in-house competition recognizing the company's most creative employees of the past year.
At the event, which took place Oct. 3, 2018 at the Science Museum of Virginia, Index AR executives showcased several powerful augmented reality (AR) solutions the Williamsburg, Va.-based company has built for major utility customers across the country, including Dominion Energy, MidAmerican Energy, Ameren Corporation and Evergy (formerly Westar).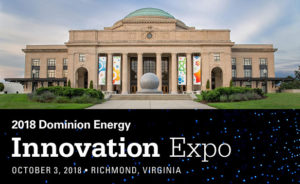 Among the AR solutions presented included a training application Index built for Dominion and its above-ground manhole model used to help trainees learn how to handle different scenarios that they will see in the field. Index AR worked closely with Dominion's subject matter experts, supervisors and training experts to create a highly visual AR app that would overlay the different scenarios right over the actual manhole. The finished AR solution allowed trainees to identify the different components and build out various manhole scenarios.
Index AR also demonstrated an AR solution it created for Westar Energy (now Evergy), the largest electric utility in Kansas.
Like other utilities, Westar typically rolls multiple trucks to inspect, troubleshoot, remove, install, replace and program controllers on various pole-mounted voltage regulators and control panels. Index AR collaborated with the company's experts to capture the safest and best-practice procedures and build them into an AR app that empowers first-responder linemen to perform all those tasks. The app recognizes five different controllers and provides the linemen the appropriate procedure step by step, overlaid on the pole mounted voltage regulator and control panel.
Westar estimates it can cut the number of truck rolls at least in half, representing a significant savings and return on investment from the app, which Index AR has branded the LineAssist SuperApp® and made available for sale to other customers.
Indeed, the power of AR was part of a broader theme of innovation at the Expo. A new mobile app developed by Dominion's power delivery unit uses AR to communicate with customers before overhead power lines are converted to underground power lines on their property. The employee-led app earned the company's "Chairman's Excellence Award."
Other powerful apps demonstrated by Index AR included the Gas Tech Apprenticeship SuperApp created for MidAmerican Energy Company. Packed with videos, imagery and contextual references to important standards and regulations, the app combines AR and eBook-delivered content that enables apprentices to visualize and better comprehend the materials, tools and equipment used in the field.
For more information on Index AR offerings, click here.