DEMOS SPEAKERS AGENDA LOCATION REGISTRATION & FEES CONTACT
---
The Spring 2018 Index AR Retreat will bring together select enterprises and interested parties to share and better understand Augmented Reality (AR) and its application in industry.
This unique opportunity to share will accelerate the adoption of AR and make our employees more safe, capable, productive while improving quality and enabling knowledge transfer.
The retreat – hosted by Index AR Solutions at Kingsmill Resort in Williamsburg, Virginia – is scheduled to allow participants to travel to Williamsburg on Wednesday, May 9 and travel to and arrive at any mainland USA destination by the night of Thursday, May 10.
The retreat offers participants a unique opportunity to experience hands-on Index AR demoes and exhibits, listen to speakers describe how their companies are using and considering using Index AR and network with other participants that are assessing how augmented reality could help their companies.
CLICK HERE TO REGISTER FOR THE RETREAT NOW
CLICK HERE TO RESERVE YOUR ROOMS NOW
---
Index AR 2017 Fall Retreat Highlights: Making Workers Safer, Faster and Smarter Now
---
INDEX AR SOLUTIONS DEMOS AND EXHIBITS
A 7-10 am session on May 10 will offer retreat participants the opportunity to walk around and experience first-hand Index AR Solutions displays and demos. From 7-8 am, breakfast will be served right outside the ballroom and participants are encouraged to eat, network and experience Index AR first hand.
The augmented reality demos and displays will feature a few of the more than 95 Index AR Solutions / Newport News Shipbuilding (NNS) AR projects as well as some of the ongoing R&D conducted at NNS. We have asked clients to spend some time at their own displays/demos and speak to their experience utilizing the AR. Here is a short description of each display/demo.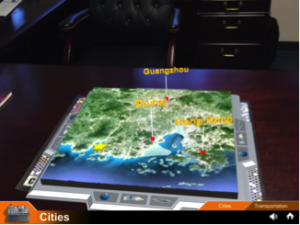 Client: Fluor Corporation
Challenge: In October 2015, Fluor announced a $1B JV that would change the way large off-shore oil rigs were built. Fluor needed a way to effectively communicate this capability to their oil-major clients other than an 80-page power point presentation or an expensive and time consuming on-site visit in China.
Solution: Index created a bi-lingual, interactive, 3D, AR map with three views – 1) world, 2) region and 3) facility packed with information the Fluor sales team could share with oil-majors.
Client: A Southwestern Utility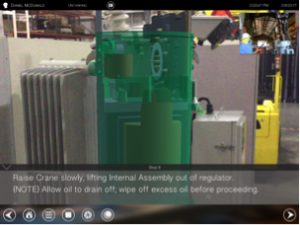 Challenge: A Southwestern Utility had two voltage regulators fail and consequently, lost two separate substations. Dissolved Gas Analysis of several other regulators showed a high likelihood of other regulators failing in the future. The utility is rate sensitive and chose to maintain versus replace the regulators. They needed to train people to do the tap change and maintenance procedures, capture the best practices, reduce error rates and improve efficiency.
Solution: Index worked closely with the lead electricians, capturing knowledge transfer from the most experienced members, creating a step by step process to put into an app on a tablet. The app was given to a qualified electrician that had never done the proceed before but did the tap change and maintenance in 2 hours and reduced error rates by more than 90% from the traditional use of manuals and paper. This app is also bi-lingual in English and Spanish for ease of use.
Client: Westar Energy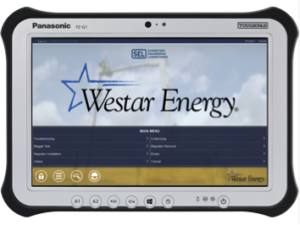 Challenge: Like other utilities, Westar must roll multiple trucks to inspect, troubleshoot, remove, install, replace and program controllers on multiple different pole mounted voltage regulators and control panels. Westar wanted to provide the linesman the approved procedures to perform these tasks on each voltage regulator and control panel variant.
Solution: Index worked closely with Westar's linesman, engineering, experts and supervisors to capture the "safest and best practice" procedure and "pour" it into the app. The app recognizes five different controllers and provides the linesman the appropriate procedure step by step overlaid on the pole mounted voltage regulator and control panel.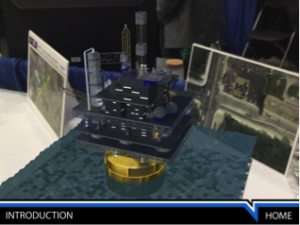 Client: Index Marketing
Challenge: Augmented Reality is a visual technology. Describing AR or explaining how it can impact work is almost impossible without a visual, hands-on experience
Solution: An app deployed on apple and android devices that demonstrated 1) oil rig occupying 3D space, 2) a 2D drawing coming to life as a 3D object, 3) a construction aide for stud placement, 4) an assembly aide for valve installment, 5) X-ray vision on a valve and 6) step by step work instructions for a valve.
Client: Dominion Energy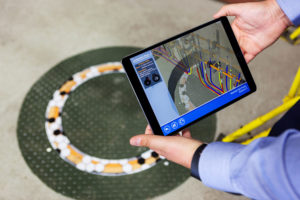 Challenge: Dominion constructed a new above ground Manhole for their trainees to learn the different scenarios that they will see in the field. They needed a tool to visualize the different scenarios in an empty Manhole as well as build out the Manhole using the AR tool.
Solution: Index worked closely with Dominion's SMEs, supervisors and training experts to create an AR app that would overlay the different scenarios right over the actual manhole. The AR app also allows the trainee to identify the different components and build out the Manhole scenarios.
Client: Waste Management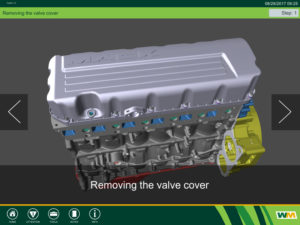 Challenge: Waste Management has a large fleet of trucks that need to be maintain on a regular basis. Two of the important maintenance tasks are valve adjustments and brake pad replacements which are very complex with hundreds of required and sequenced steps. Waste Management executives wanted to provide a tool that helps their mechanics by provided just in time information for each step.
Solution: Index worked closely with Waste Management front line expert mechanics, SME's supervisors and managers to "optimize" the "best practice" steps into an AR app that overlaid this information on the actual truck during maintenance.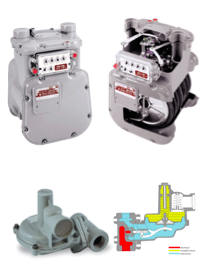 Client: MidAmerican Gas
Challenge: MidAmerican seeks to increase quality outcomes and understanding of their Gas Tech Apprenticeship. MidAmerican wants their training to follow their apprentices into the field as a valuable tool and reference, even after their apprenticeship is complete.
Solution: Index AR Solutions is working closely with MidAmerican's managers, instructors, and subject matter experts (SMEs) to create an AR application and an e-book that adds value in the communication and understanding of the Gas Tech Apprenticeship material. The app will include new ways to visualize the functions of a gas meter and gas regulator, interactive class material, and feedback tools for the instructors.
---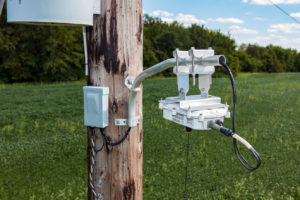 Client: Ameren Corporation
Challenge: Ameren Corporation has a new requirement to troubleshoot and replace thousands of routers and modems. Ameren Corporation has chosen to have this task performed by their linesmen rather than by a specialty workforce. Ameren Corporation needed a tool to help their linesman perform this new task safely and efficiently with minimal quality escapes.
Solution: Index worked closely with Ameren Corporation to create an AR app that overlays each step by step task over the actual modems, routers and collectors.

---
CONFIRMED SPEAKERS
Additional speakers will be added as they are confirmed.
---
Dan Arczynski – President and CEO, Index AR Solutions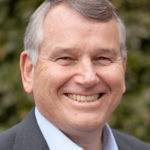 Prior to Index, for 19 years Dan held a series of executive positions in the shipbuilding industry. He has served as corporate vice president of both business development and strategy at Huntington Ingalls Industries as well as sector vice president of strategy at both Northrop Grumman Shipbuilding and Northrop Grumman Newport News. During this period Dan had staff responsibility for both strategic and growth initiatives and served on the board of directors for Continental Maritime of San Diego, AREVA Newport News and Savannah River Nuclear Solutions.
Prior to shipbuilding, for five years Dan was vice president of strategy and vice president of mergers and acquisitions for Shawmut, a large New England regional bank. He was also a consultant for Marakon Associates a firm focused on creating shareholder value for its clients.Dan is a veteran of the US Army and served for twelve years attaining the rank of Major. During this time he led five platoon size units and commanded a light infantry company. He also taught economics, finance and investments at West Point.
Dan is a 1978 graduate of the United States Military Academy where he was on the Dean's List, Commandant's List and Superintendents List. He is a 1986 graduate of the Harvard Business School where he was a graduate of Highest Distinction and was elected Baker Scholar.
---
Jason Autrey – Principal Engineer, Transmission Systems R&D, Southern Company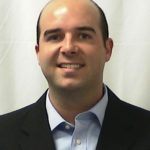 Jason Autrey currently serves as the principal research engineer for the Transmission Systems R&D group for Southern Company. In this role, he leads the research program across all of Transmission Lines and Substations with a technical focus in areas including applied robotics, sensor development, and construction & inspection technologies. The Transmission Systems R&D organization pushes to develop innovative technologies and solutions that continuously push for grid modernization.
Over the course of his 14-year career at Southern Company, Jason has held positions within six business units within the transmission industry. He has over 6 years of field experience in substations, 5 years in transmission operations and planning, and over 3 years of transmission project management.
Autrey holds a bachelor's degree in electrical engineering from Auburn University, a master's degree in electrical engineering from the University of Alabama Birmingham (UAB), and is a registered professional engineer in Alabama.
---
Bryson Cyphers – Director of Substation Maintenance, Westar Energy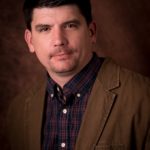 Bryson Cyphers received a Bachelor's Degree in Electrical Engineering from Kansas State University and is a registered professional engineer. Mr. Cyphers spent 4 years in an engineering consulting role prior to joining Westar Energy in 2007 and has established experience in both power generation and substations. He joined the Substation Maintenance organization in 2011 as a front-line supervisor, rising to the position of Director of Substation Maintenance for the last 4 years, where he guides and directs maintenance activities and strategic practices.
---
Kevin DeGraw – Vice President, Corporate Operations Oversight, Ameren Corporation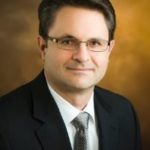 Kevin DeGraw is Vice President, Corporate Operations Oversight at Ameren. In this role, Kevin leads the integration of Nuclear Corporate Oversight, Quality Management, and Project Management Organizations to ensure performance excellence and improved cost results across the entire enterprise. Kevin joined Ameren in 2009 as Vice President of Enterprise Risk Management.
Previously, Kevin was Vice President of Ameren Missouri Power Operations, where he was responsible for the safe and reliable operation of approximately 9,000 megawatts of generation capacity at 15 separate locations, including coal, natural gas, and hydro generation facilities.
Before joining Ameren, Mr. DeGraw worked at Northrop Grumman for twelve years, where he last served as Program Manager on a highly successful $2 billion dollar contract, leveraging program controls and risk management to deliver on time and on budget. He also managed a number of manufacturing operations leading the implementation of lean manufacturing techniques to greatly reduce cost and shorten cycle time.
Early in his career, Mr. DeGraw gained experience in design engineering at Ford Motor Company. He also served in the US Navy as a Surface Warfare Nuclear Propulsion Officer.
Kevin holds a Bachelor of Science degree in Mechanical Engineering from the State University of New York, and earned a Master in Business Administration degree from the University of Michigan.
He serves on the board of the St. Louis Equity Fund, and on the Supervisory Committee of Electro Savings Credit Union. Previously, Kevin has served on the board of Gateway 180 Homelessness Reversed, and Housing Revitalization, Inc.
---
Thomas Jefferson – American Founding Father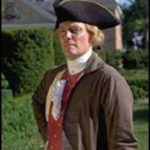 From Governor of Virginia to the founder of the University of Virginia and on to the White House, Thomas Jefferson is a wealth of information, wisdom and insight.
---
Dexter Lilley – Executive Vice President and Chief Operating Officer, Index AR Solutions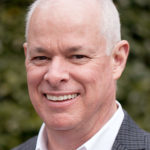 Dexter Lilley is the Executive Vice President and COO of Index AR Solutions. Dexter foresees augmented reality creating the next industrial revolution by delivering the right information to the right place at the right time. Prior to joining Index, Dexter held several executive positions in the shipbuilding industry. Most recently, he served as Director of Strategy and Business Development for Huntington Ingalls Industries (HII), creating value through diverse innovations such as HII's teaming agreement with one of the top wind energy companies and winning corporate development funding for augmented reality.
Prior to joining Strategy and Business Development, Dexter was Director of Steel Fabrication and Assembly. Previously, he was Director of Component Fabrication and Assembly at Newport News Shipbuilding. In these construction and manufacturing roles, he acted as an agent of change, bringing lean manufacturing tools and techniques into the company to drive significant improvements on touch labor cost and using modern scheduling techniques, such as theory of constraints, to dramatically improve schedule performance.
Earlier in his career, Dexter was selected to participate in the NNS' prestigious Process Innovation Initiative. He also served several roles of increasing responsibility in the company's Finance Division.
Dexter is a 1980 graduate of the Christopher Newport University with a Bachelor of Science degree. In 1988, he graduated from The Mason School of Business of the College of William and Mary with a Master of Business Administration.
---
Mary Claire McLaughlin – Supervisor, Augmented Reality Projects, Newport News Shipbuilding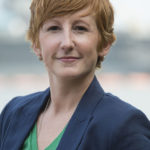 Mary Claire McLaughlin is the Supervisor of Augmented Reality Projects at Newport News Shipbuilding (NNS), and a key member of the acclaimed "Project Dogfish" intrepreneurial innovation team. Mary Claire was born in Norfolk and raised in Hampton Roads. She earned a bachelor's degree in Mechanical Engineering from Old Dominion University in 2010.
Upon graduation Mary Claire joined NNS and worked in submarine engineering as the lead of the external hydraulic system on the OHIO Replacement Submarine Program. Early in her career Mary Claire recognized the potential of AR to empower the industrial workforce and knew that she wanted to be a part of integrating this important technology into the shipbuilding industry. Mary Claire joined the AR Team at NNS in 2014 after many years of following the development of the technology. She now leads an experienced team of AR experts that develop and deploy innovative industrial AR solutions to the shipyard, the Navy, and commercial clients through a third party teaming agreement with Index AR Solutions.
---
Jeremy Phelps – Supervisor, Training Delivery, Dominion Energy – Power Delivery Group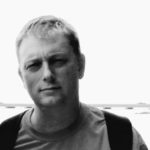 Jeremy Phelps is the Supervisor of Training Delivery at Dominion Energy. Jeremy joined Dominion Energy in 2005 as a Training Specialist and has served as a Senior Training Specialist and Supervisor of Training Development. Jeremy currently leads the technical instructors supporting Power Delivery's Transmission and Distribution training. Jeremy serves on the implementation team for augmented reality applications, knowledge management, and incorporation of NCCER craft curricula. Jeremy also serves as the President of the Southeastern Electrical Exchange(SEE) Training Section.
---
Anna Wing Pilcher – Manager, Gas Apprenticeship and Operator Qualification, MidAmerican Energy Company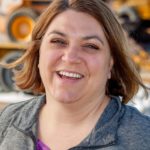 Anna Wing Pilcher has been a member of MidAmerican Energy's team since 1994. Anna started with MidAmerican Energy as an engineering intern evaluating cathodic protection systems. Through the years, she has held design positions in gas and electric delivery, frontline supervisor for gas and electric servicemen, and has been leading the Gas Apprenticeships and Operator Qualification department since 2008.
---
Dr. John J. Simmins – Technical Executive, Electric Power Research institute (EPRI)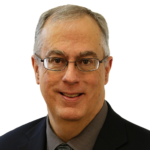 Dr. John J. Simmins is a Technical Executive at the Electric Power Research institute (EPRI) where he manages the Information and Communication Technology for Distribution project set. His current responsibilities focus on bringing thought leadership in the area of integrating diverse applications such as Advanced Meter Infrastructure, Meter Data Management Systems, Distribution Management Systems, Customer Information Systems, Geospatial Information Systems and Outage Management Systems. John also leads the EPRI efforts in the use of augmented reality, social media, data analytics, and visualization to improve outage restoration efforts and improve grid resilience. He received his B.S. and a Ph.D. in Ceramic Science from Alfred University in 1984 and 1990 respectively.
---
Scott Sommers – Vice President, Client and Corporate Development, Index AR Solutions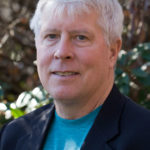 Prior to joining Index AR Solutions Scott Sommers was Senior Vice President of Finance and Corporate Development at SureWest Communications. He was instrumental in setting the SureWest's strategic direction, leading the sale of the directories, wireless and tower assets as well as the acquisition of its Kansas City properties. He also led the restructuring of the corporate compensation plans, freezing the defined benefit plan and outsourcing of non-core functions.
Additionally, he led all treasury functions, investor relations, banking and financial institution relationships; directing the planning, procurement and investment funds.Prior to the Communications industry Scott has over 20 years of banking and finance experience serving as managing director of investment banking for Cantor Fitzgerald in Los Angeles, CA and held executive roles with Mellon Financial Group, KBC and UBS with a focus in the energy industry.
Scott is a graduate of the University of Iowa with degrees in History and Psychology, 1981 and received his MBA from The American Graduate School of International Management in 1984.
---
AGENDA
Wednesday, May 9 – Kingsmill Resort
---
Thursday, May 10
---
Reception and Dinner for those staying at Kingsmill Resort Monday Night
6:30–7:30pm
Welcome Reception
7:30–9:30pm
Dinner
Thomas Jefferson (Williamsburg Re-enactor)
7–8am
Registration and Breakfast
7–10am
AR Demos, Displays, Networking
10am – 12pm
Formal Program*
Multiple Speakers
12–1pm
Lunch
1–3pm
Formal Program*
Multiple Speakers
3pm
Depart Kingsmill
---
*During the 10am–12pm and 1–3pm sessions, each speaker will, for 15 minutes, discuss their position, company, industry and challenges faced; explain if they currently do or would consider the use of AR and Index AR and their view on the future role of AR.
---
LOCATION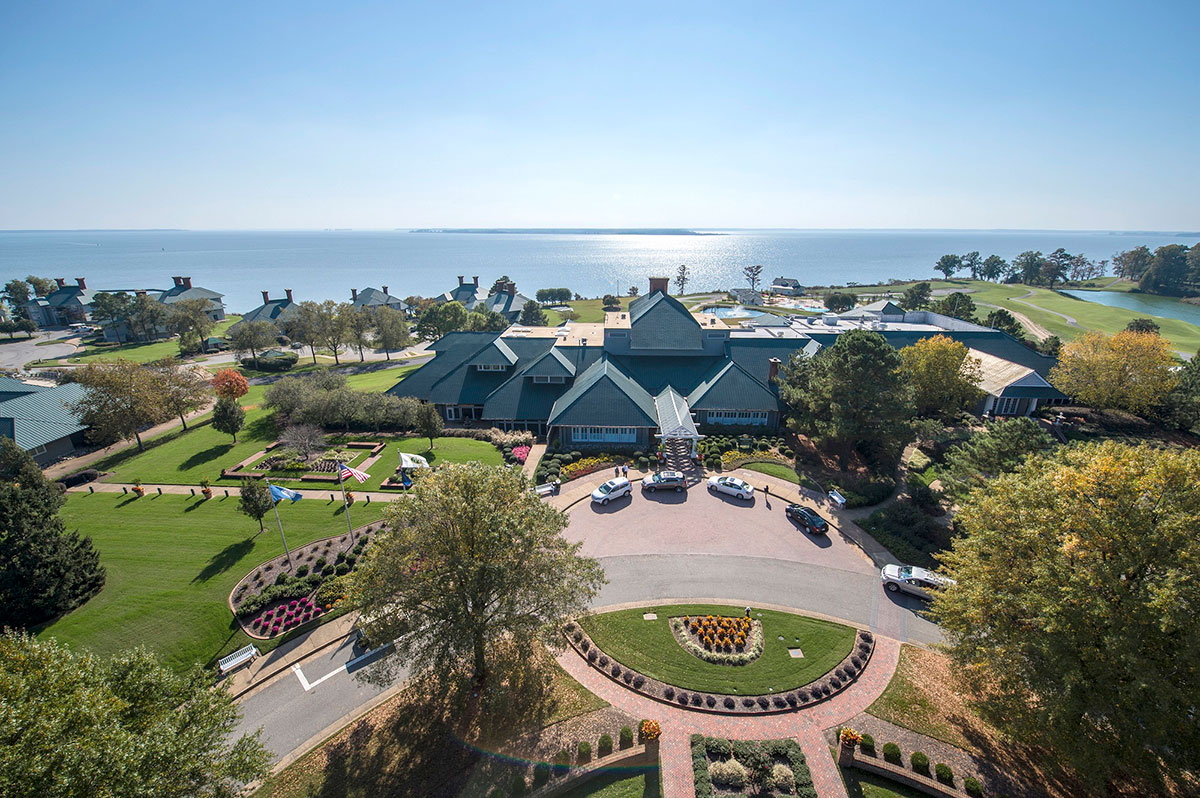 Stunningly set against the James River, Kingsmill Resort is a place steeped in honored traditions and genuine Southern hospitality.
When the first English foot was placed in Virginia, it was here on these grounds that once served as a central part of the area's plantation life in the 1600s through 1800s.
Today, Kingsmill Resort retains those magnificent traits inherent in Kingsmill's early life with grand accommodations, gracious hospitality and stately service.
The Resort's Plantation Golf Course is routed along what was once the original Kingsmill Plantation, and other resort properties and features are similarly located on plantation grounds.
In 1969 Anheuser-Busch purchased 3,900 acres of James River land with plans to build a large brewery. As part of the land purchase agreement, Anheuser-Busch agreed to develop hundreds of those acres into what is now Kingsmill Resort.
Learn more about Kingsmill Resort, its accommodations and amenities here: http://www.kingsmill.com.
---
REGISTRATION AND FEES
There are two elements to the Spring 2018 Index AR Retreat Fees – 1) accommodations and dinner Wednesday, May 9 and 2) the retreat activities and meals on Thursday, May 10. Please be sure to register for both below if attending the entire retreat for both days. If you are not staying at Kingsmill Resort and arriving Thursday, May 10 for the retreat only, please only register for the retreat.
RETREAT REGISTRATION
The $150 retreat registration fee includes breakfast May 10, beverages and snacks throughout the day, lunch buffet and access to networking, speakers, AR demos and exhibits.
CLICK HERE TO REGISTER FOR THE RETREAT NOW
ACCOMMODATIONS
Kingsmill Resort has reserved the following rooms at the rates listed below:
Resort Guestrooms: $308.39
Resort One-Bedroom Suites: $386.09
River Guestrooms: $363.89
River One-Bedroom Suites: $463.79
The conference package rate includes one night of accommodations, reception on May 9 (including alcohol) and dinner (not including alcohol).
CLICK HERE TO RESERVE YOUR ROOMS NOW
Telephone reservations can be made by calling the Resort Reservation Department at 757-253-1703 or 1-800-832-5665. A credit card will be required to make a reservation. Please identify yourself with the Index AR Solutions Retreat.
---
CONTACT INDEX AR
For more information about the Enterprise Augmented Reality Retreat, presented by Index AR Solutions, please contact:
---
Scott Sommers
Vice President, Client and Corporate Development